New search
In time for the AA Arborists Trade Fair we launched our new website. Its completely redesigned and more user friendly - searching for classifiedadverts, jobs and industry services is now faster and easier than ever before.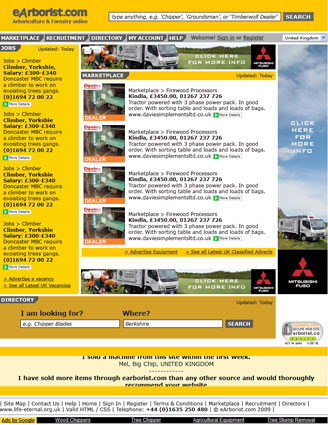 We are looking for your feedback..
Do you think it is the best thing since sliced bread? Are you struggling to get to grips with it? or do you need some guidance around it?
Call us on: +44 (0)1635 250 480
and the winner is...
To celebrate the launch of the new website we held a competition in association with BigChip at the 2009 Arborists Trade Fair. The winner was pulled from a hat by the show organisers, the Arboricultural Association.
Congratulations to Barry Reed, the winner of the Stihl MS200T and thanks to all who visited our stand at this years show.
More for your money
eArborist.com is continually improving, our new website will guarantee more enquiries to your advertising on the site..
Sell your chipper... £15.99
Post vacancies from just £29.99
List your company in our directory for FREE

Dont want to enter credit card details on the internet? Call us on: +44 (0)1635 250 480 and we will take your advert details over the phone.